Equipment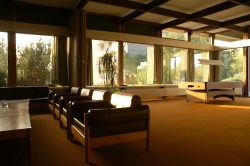 There are three lecture halls in the lecture hall and administrative wings of the building. Lecture halls 1 and 2, which can be pooled together, offer space for large events with a supply of seats for up to 200 guests. In normal conference operation, the accommodations are set up for approximately 40 participants each. Additional smaller rooms for work in small groups are also available.

The Trier conference site is complete with all technical equipment of a modern conference establishment (flip-charts, meta plan technology, overhead projectors, video equipment, data projector, beamer, as well as PC with internet access and connection to the JURIS computer in Saarbrücken). A library and reading room are set up in the lecture hall building; the conference site subscribes to several local and national daily newspapers as well as weekly newsmagazines, which are available to the guests for reading.
Accommodations at the conference sites comprise 86 guest rooms in the five-storey residential building. The single rooms are equipped with a balcony, shower / WC and telephone.

The Judical Academy`s canteen provides guests with a plentiful breakfast buffet, a three-course lunch menu and a varied range of dinners in the evening. Kitchen personnel should be informed upon arrival of any special requests. Vegetarian meals are served on a regular basis.

Lounges and TV rooms, an indoor swimming pool with sauna, ping-pong tables, fitness equipment and a pool table offer a pleasant set-up for stay at the conference site. In the summer season bikes can be rented and tennis can be played on nearby courts for a small fee. The large sun sun deck and the surrounding green invite to enjoy the outdoors.
The wine tavern in the basement gives the Academy´s guests the opportunity for a jovial get-together. There the day can be brought to a close whilst enjoying the well known regional wines and other beverages.
In the conference free time, guests have the opportunity to participate in a social program organised by the Academy.

Deutsche Richterakademie - Tagungsstätte Trier: trier(at)deutsche-richterakademie.de - Tagungsstätte Wustrau: wustrau(at)deutsche-richterakademie.de