Equipment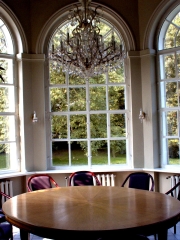 The castle is reserved for the actual conferences themselves. It has two large lecture halls which hold 30 to 40 participants each - as well as numerous rooms for group work.
The Wustrau conference centre is equipped with all the technical furnishings of a modern seminar provider. For the use of contemporary educational methods in conveying and processing knowledge, in addition to state-of-the-art technical equipment, there also are rooms available for work in small groups and role-playing exercises. A small library with PC-equipment is available which can be used for independent study. For current information, an assortment of regional and national daily newspapers are available in the large break room.
Exercise and TV rooms, two bowling alleys, table tennis tables, a sauna, bicycles and boats are also available for leisure activities.
The scenically attractive location of the conference centre – directly on the "Ruppiner Lake" and the "Luch" (low-lying wetlands) – invite hikers, bicyclists and boating enthusiasts to enjoy long walks rides or tours. A horseback riding arena in the area also provides recreation.
The day can be brought to a close in the cosy social atmosphere of the "Märkischen Keller" whilst sipping fresh draught beer and other beverages.
The guest rooms (single rooms) are all furnished with a shower / WC and a direct-dial telephone. There ist an internet connection from all guest rooms via W-Lan. Provided the centre is informed prior to arrival, individual arrangements can be made for guests requiring special accommodations (e.g. in cases of physical disability).

Guests receive all meals in full, which are prepared by the Academy's in-house cooks. Kitchen personnel should be informed upon arrival of any special requests. Vegetarian Meals are served on a regular basis.
In the conference free time, guests have the opportunity to participate in a social program organised by the Academy.
Deutsche Richterakademie - Tagungsstätte Trier: trier(at)deutsche-richterakademie.de - Tagungsstätte Wustrau: wustrau(at)deutsche-richterakademie.de