Wustrau and the Zieten Castle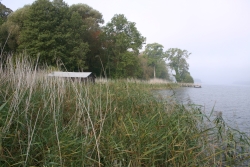 "Wustrau", as German poet Theodor Fontane wrote in his "Travels through the Mark of Brandenburg", "lies at the southernmost point of the lake. The soil is fertile, and where its fertility ends, the Wustrau Luch, a peat bog, continues, which competes in respect of lushness with the Linumer Gräbereien. The village itself, tidy farm houses evidencing prosperity, is situated some distance away from the lake; between the village and the lake, however, lies the expanse of the park, whose clusters of trees are only surpassed in height by the roof of the somewhat more elevated position of the manor. The latter is the precise mirror image of the residences of the nobility, just as they were built during the second half of the last century in the towns and villages of the Mark ..."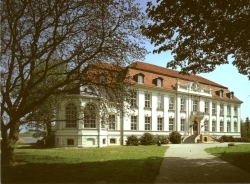 The manor Fontane describes, which was built in 1750 by the Prussian Hussar General Hans Joachim von Zieten, called in short "das Zieten-Schloss" (Zieten Castle), is located directly on Ruppin Lake, only a few kilometres away from Neuruppin, which, as the saying goes, is "the most Prussian of all cities".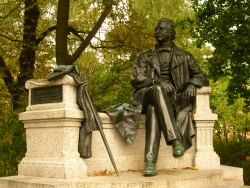 The birthplace of Theodor Fontane and Karl Friedrich Schinkel, one of the most renowned builder/architects at the beginning of the 19th century, is the nearest larger city, situated on the northern side of Ruppin Lake. It is worth combining a tour of historical Neuruppin with a visit to the museum which contains superbly arranged sections on Theodor Fontane, Karl Friedrich Schinkel and the well-known "Neuruppiner Bilderbogen" (exhibit on images of Neuruppin).
From Neuruppin you may take delightful excursions and boat cruises through the chain of Ruppin Lakes from May until September. In addition, Neuruppin is the starting point for exhilarating bicycle rides through scenically splendid "Ruppin Switzerland".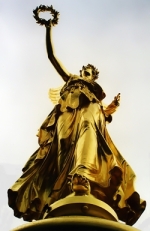 Let us once again see what Theodor Fontane has to write about the location of Wustrau in the landscape of the Mark: "The shorelines of Ruppin Lake, virtually the shape of a half moon, are divided into two very distinct parts. The northern half is sandy and infertile and, apart from the agreeably situated towns of Old and New Ruppin, utterly lacking in picturesque value, whereas the southern half is partly cultivated, partly forested and has been encircled since times past by four lovely villages. One of these villages, Treskow, was until recently an old treasury estate of the town of Ruppin; the three others: Gnewikow, Karwe and Wustrau are manors. The first of these protrudes the most distinctly from among the reed-covered and timbered shoreline and its church tower and farm houses make it a particular ornament on the lake. It belonged to the von Woldeck family ... Karwe belonged to the Knesebecks. Wustrau, on the other hand, became renowned as the residence of ´old Zieten´...."
In Wustrau itself, it is the church that is mostly worth a visit. On the church grounds, one may view the gravesites of Hans Joachim von Zieten, the old "Zieten from the bush", and his son Friedrich Christian. Within an hour or little more, Rheinsberg Castle, Berlin and Potsdam can be reached by car.
Deutsche Richterakademie - Tagungsstätte Trier: trier(at)deutsche-richterakademie.de - Tagungsstätte Wustrau: wustrau(at)deutsche-richterakademie.de